20 FEBRUARY 2014 
Expressions of interest will open soon for the main contractor and café operator for the new Invercargill Airport terminal.
The preliminary design phase, which included architectural layouts and foundation plans, was completed in December 2013 and since this time detailed design work has been undertaken and is nearing completion.
Invercargill Airport is now moving to the next stage of the development process which involves a prequalification process for the main contractor which will be advertised through the Government Electronic Tenders Service (GETS) tomorrow afternoon.
The construction contract for the terminal redevelopment includes demolition of the existing building, construction of the new terminal building and erection of a temporary baggage reclaim enclosure.
Invercargill Airport Chairman Joe O'Connell said completion of the pre-qualification process is expected by the end of March.
"Assuming no delay in the tender process and subject to the construction timeframe being agreed, we estimate a completion date of around Christmas 2015," he said.
In parallel with the construction prequalification process, Invercargill Airport will be calling for expressions of interest in the café operation.  This process is expected to begin next week, with the airport looking for a café operator to provide a vibrant focal point for the new terminal building. This presents an attractive business opportunity for interested parties.
"We have already had interest both locally and nationally for the construction contract as well as the café operation, so we are pleased to be starting the official process," Mr O'Connell said.
Invercargill airport is pleased to be moving to the next stage and encourages companies to register their interest.
For more information please contact the Chairman of the Board of Directors, Joe O'Connel,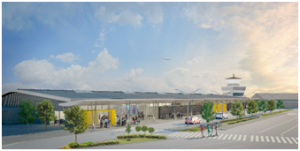 Artists impression of the exterior render for the new airport terminal building.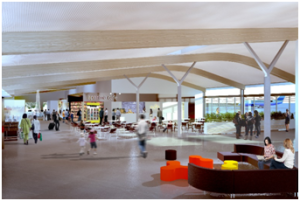 Artists impression of the interior render for the new airport terminal building.