Conditions of Use
For a copy of the Conditions of Use document please click here to download a copy.
Runway Details.
Sealed runway 04-22.
Landing distance 2030m
Width 45m
PCN 40 F/B
Further aerodrome data available in our AIP document.
FOR FEES RELATED TO CORPORATE/PRIVATE JET LANDINGS,
kindly email admin@invercargillairport.co.nz 
Aerodrome Charts and Survey.
Type A charts available, surveyed December 2018.
Type B charts available, surveyed December 2018..
AIP charts available.
Contact Airport Operations for copies of charts.
International Flights.
Inbound international flights can be facilitated. Restrictions apply.
The Airport requires minimum 2 days' notice to make CIQ arrangements prior to international flights as the departments are not based locally.
The Airport recommends international flights are made through a third party Flight Facilitation company.
In all instances arriving aircraft must have prior written approval from the relevant Border agencies before they can land or conduct a gas and go at Invercargill Airport.  Invercargill duty managers and/or the designated POFA operator must sight the approval prior to providing approval to land.
Invercargill Airport can handle a maximum of 14 international passengers and crew in accordance with its Port of First Arrival certification. POB exceeding 14 can be facilitated with prior notice.
Please contact Airport Management for further details.
Aircraft Landing Charges

Charges effective 1st of July 2023


All prices are exclusive of GST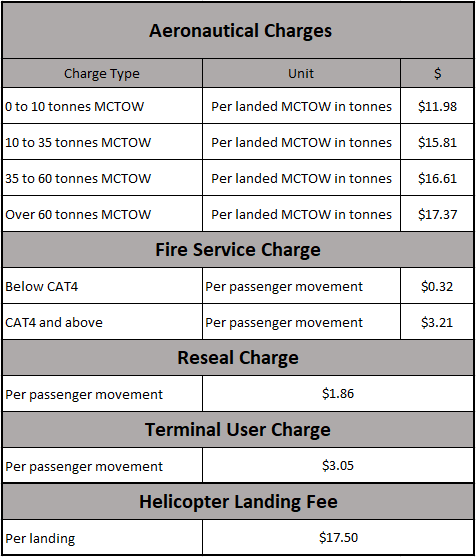 NOTE: An additional pavement recovery charge will be applied to any aircraft with a MCTOW relating to a PCN/ACN overload condition which exceeds the airports advertised pavement strength as per the NZ-AIP. Contact the operator for further details.
---
Aircraft Parking Charges.
| | |
| --- | --- |
| Period Commencing | Daily Parking Charge  |
| <5 000kg | $27.50 |
| 5 000kg – 10 000kg | $55.00 |
| 10 001kg – 20 000kg | $110.00 |
| >20 000kg | $165.00 |
Notes:
Period 1 – 6 hours No charge.
Period > 6 hours Standard daily charges apply (see above).
Contact admin@invercargillairport.co.nz